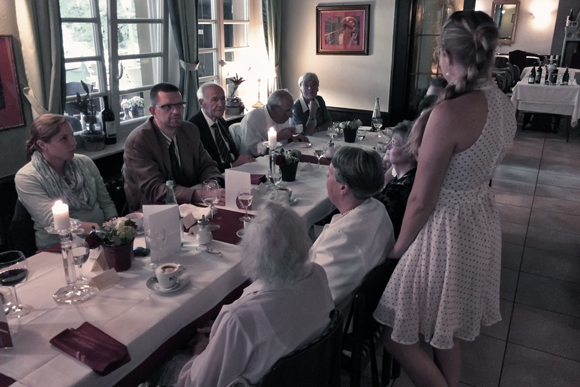 Coming back home in twilight, I see street prostitutes in Hütteldorferstrasse during their evening shift.
Girls have extremely minimized professional outfit standing there almost nude in cold rain.
Some of them are very young. Trying to catch glimpse of their faces in quickly growing darkness
I try to imagine what they feel. I also see men who occasionally stop there in cars. What do they search? During first years of my life in Graz I actively dated.
It was vitally important to start understanding people around. Operating with few German words, I used to talk with men from Graz, Brück and Linz- about their lives. Understanding breaks language barriers.
But I could never clearly apprehend what men really search for.
If they tend to value physical component of relationship so high,
then every lass standing by the road could instantly gain full
power over their hearts.
We met in dusk smoky
space of Sporgasse cafe. W. was one of my correspondents-55-year old
teacher with dark sad eyes.
He gave me impression of being sophisticated, cynical and innocent at the same time.
We talked for two hours and then met again.
He was born in province and after getting education
married to woman from neighborhood. Union occurred to be unhappy,
and after 25-years of mutual ordeal, couple came through destructive divorce.
At the moment of our meeting, teacher was in relationship with 19-year old girl,
with whom he lived together.
Looking at the roofs of Graz spreading below us he told:
– We sleep in one bed, but we have no intimacy.
Gloomy luminosity of his eyes told me it was truth.
As he confessed, W. always experienced exaggerated sexual needs,
and his former wife used his dependency as weapon.
Eventually she deprived him of sex completely, and it was hard for both: he
suffered from absence of sexual release, and she – from absence of closeness.
During last years he got only occasional console in brothels.
But then something extraordinary happened to W. He fell in love.
He fell in love
with 16-year old girl, his pupil.
He could not resist her being so excitingly youthful and nonchalant,
her provocative bravery made him crazy, after years of depravity,
humiliation and sexual hunger, he felt suddenly free and sensed
that this 16-years old teenager with fully formed breasts and sensual smile-
was ready to do anything he wanted, flattered by very idea of being in love with teacher.
Sometimes when sitting in class, he was afraid to stand up and start lesson, because he was visibly aroused.
Common sense, cautiousness and grip of sudden infatuation struggled in him, and as
he started to meet with her privately in forest,
where nobody could spy after them, his wisdom gave up to obsession.
Young girl can hardly be preoccupied with goal to satisfy needs of aging teacher unless it gives food to her ambitions.
She talked to her girlfriends, and news about forest meetings reached ears of school master and parents.
The only way for W. to go on after that was to start living together with his girl
in officially approved partnership. He moved to the house of girls parents.
His decent income helped to resolve situation.
Every time I met with W., I sensed he used generous quantities of alcohol to inspire himself through day.
-It was mistake, mistake! All my life was mistake!- used W. to say searching with eyes
for waiter who would bring him next cocktail.
The last time I met W. he was smartly dressed and looked even more gloomy than usual.
He was to go to his mothers birthday party. O, mama, here is your beloved boy with huge bouquet!
There was also younger sister and canyon of misunderstanding between relatives.
Every meting of mother and daughter meant quarrels, shrieks and slamming of doors.
Sister was touchy. Having good education, one day she lost her work.
Then her boyfriend escaped and found younger woman.
She started to drink and became mixed in stories with co-drinkers. That infuriated mother.
Only 83-year-old father supported daughter morally and financially with his pension.
Then father suddenly died.
A few weeks after his funeral woman disappeared.
They seek her everywhere. Police, relatives. All private belongings stayed at home, so search dogs were used. There was no trace of her. Only one year later, somebody came against remains of human body in bushes of Schöckl and the woman was identified.
She came there one day equipped only with bottle of brandy and handful of sleeping pills finding it was impossible to struggle through hell of her life alone.